Competition Description
: To provide a photograph of a automobile that was of a high quality (both artistically and digitally) that will be used as the "model" for my next tutorial.
I had
a lot
of entries for this, probably ended up looking through over 100 images in total, so selecting one that was just right took a little while.
After choosing 3 of the best photos (which happen to come from America, Europe and Japan), i have now decided on the one i'd like to use. My decision was based on several factors, but the main factor was "Which is easiest to toon?". I found from personal experiences and feedback from others that when following a tutorial like this people like to use the same photo as the author. So i had to bear in mind that the photo couldn't be
too
tough to complete.
Below are those 3 photos with a little description about each one. It was hard enough choosing one photo to be better than the other two, so rather than go through that again the other two images are labelled as 'joint second'.
The Winner

Congratulations to Jonathan for having an awesome Corvette and providing a great photo - this is my winner. There's a look of true professionalism in this photograph (as with the rest of his work) and he's really captured the fine details of this beautiful car - when you see this photo at full res you can really marvel at the simple but sufficient lighting on the bodywork and wheels especially. On top of this, with no difficult headlights or overly complex wheels to toon this photo fits the role of a tutorial model perfectly.


Joint Second

"I never work with showroom photos". I said that once. Well i've probably said it more than just once actually. The lighting in showroom photos is usually awful and the shots seemingly taken by idiots. However Chris has bucked the usual trends and produced a generally well detailed, full body shot of a beautiful 599 Ferrari with minimal dodgy reflections. It didn't quite achieve the top spot due to the lack of detail in some areas like the headlights and the overly complex wheels which tutorial followers might find hard to work with. Great photo though, the lighting down the side of the car is deep candy-tastic.
Nissan 350z by
AZskylineGTR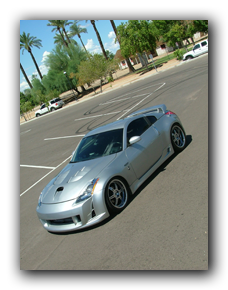 It wouldn't be right for me to not seriously consider a heavily-modified Japanese super coupe, so here's one that wowed me. A different view of
this car
, this photo shows this 350 off very nicely: almost spot on lighting; interesting body features (love Scoot bonnets); and great shot angle. It was let down by the same sort of thing as the Ferrari - lacking detail in areas - and that makes it harder to toon for people who haven't had much experience. Another great photo however, thanks Cosmin.
And Finally...
Due to the never-ending workload at university as I complete the last few months of my 4 year degree the tutorial will have to be put on hold for a little while. However it will be coming soon complete with the completed tooned version of Jonathan's Corvette.
Thanks again to all the entrants, wouldn't have been a competition without you